Survey: Half of women, one-third of men shop to improve mood
Just over half of the American population, in general, engages in retail therapy, finds the report.
"Our survey confirms that shopping truly is 'therapy' for many people, and can help raise one's spirits after a bad day. Online shopping makes this pick-me-up only a couple of clicks away," says Ebates.com CEO, Kevin H. Johnson. "At Ebates, we make shopping even more rewarding by given users cash back every time they shop at any one of their favorite stores – no matter what the reason."
Other interesting findings include:
• 57.9% of women look for clothing buys while indulging in retail therapy
• Men look for food (28.1%) during retail therapy outings
• About one-third of women also look for shoes or accessories
• Men are more likely to look to electronics, games or music
As for why people engage in retail therapy most (18.9%) say retail therapy helps them recover from bad work days while 14% go shopping after receiving bad news. Just over 10% say they indulge in retail therapy after arguing with their significant other.
Also, while indulging, getting a deal improves shoppers' moods even more. About 80% say getting a good deal makes them feel better and 61% say they'll shop during sales. And more than half (66.6%) say shopping online provides better 'therapy'.
• 43% prefer online retail therapy because they can shop from home
• 42% prefer online shopping because its 'more convenient'
• 37% prefer online shopping because they don't have to drive
TNS Global conducted the survey on behalf of Ebates.
ABOUT THE AUTHOR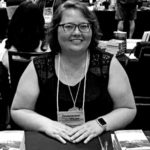 Kristina Knight is a freelance writer based in Ohio, United States. She began her career in radio and television broadcasting, focusing her energies on health and business reporting. After six years in the industry, Kristina branched out on her own. Since 2001, her articles have appeared in Family Delegate, Credit Union Business, FaithandValues.com and with Threshold Media.