How big events are impacting mobile
Jumptap reports that the Super Bowl brought many mobiles to their smaller screens – even as they were watching the game. Mobile traffic began spiking between 3pm and 5pm, lessening through the First and Second Quarters of the game. Traffic spiked again during The Black Out (8:38pm – 9:13pm) and then steadily declined until the end of the game.
How can brands take advantage of this information?
"For advertisers trying to reach consumers on mobile, the message here is clear. The best time to reach consumers is pre-game or during breaks in the game, when mobile usage peaks. (Or if you happen to know there's going to be a power outage.) It's apparent that cross-screen behavior is becoming a part of every activity, not just the Super Bowl. In fact, I'd be willing to bet that someone reading this blog right now is simultaneously checking their mobile device or watching TV with their laptop in their lap," writes Matt Duffy, Vice President of Marketing, Jumptap, via the Jumptap blog.
According to data out from Jumptap, mobile ad requests saw quite the jump between Thursday, February 7 and Friday, February 8 – just ahead of the Northeastern Blizzard in the US. Mobile weather ad requests on the Jumptap network doubled in Massachusetts, one of the hardest hit areas.
"The spikes slowly declined, but remained higher than average over the weekend upon news of driving bans, school and office closings, and plans for cleanup. With more than 353,000 Massachusetts customers without power by Saturday, it's no surprise that mobile continued to be the medium of choice for up-to-date weather and news announcements," was written on the Jumptap blog.
Meanwhile, Usablenet reports that overall mobile traffic also spiked over the weekend. Their data shows a 330% traffic increase for utilities companies in New England and a 90% traffic increase for transportation companies. Airlines also saw surging traffic (36% increase).
ABOUT THE AUTHOR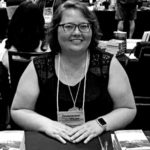 Kristina Knight is a freelance writer based in Ohio, United States. She began her career in radio and television broadcasting, focusing her energies on health and business reporting. After six years in the industry, Kristina branched out on her own. Since 2001, her articles have appeared in Family Delegate, Credit Union Business, FaithandValues.com and with Threshold Media.