iMessage takes 2 billion messages from carriers each day
How big is Apple's iMessage? Huge!
During Apple's latest earnings conference call, the company reported that more than two billion iMessages are now sent daily from 500 million Apple's devices (including iPhones, iPads, and iPod touches). It can even be run on Macs running the latest OS X Mountain Lion operating system with the built-in Messages application.
That's 2 billion less messages going via carriers.
iMessage has now exceeded 450 billion cumulative messages. It was only last June that Apple announced it was sending 1 billion messages a day and had reached 150 billion cumulative messages.
Also announced on Wednesday was a huge increase in the number of iCloud users, which saw a jump from 190 million in October to 250 million as of December.
Apple has sold over 500 million iOS devices since the first iPhone was released in 2007. The latest quarter saw the addition of 47.8 million iPhones and 22.9 million iPads to that number.
ABOUT THE AUTHOR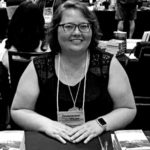 Kristina Knight is a freelance writer based in Ohio, United States. She began her career in radio and television broadcasting, focusing her energies on health and business reporting. After six years in the industry, Kristina branched out on her own. Since 2001, her articles have appeared in Family Delegate, Credit Union Business, FaithandValues.com and with Threshold Media.