Email: Misspelling names breeds consumer resentment
Emailvision's online survey of 2,001 consumers in the UK reveals that 40% of consumers aren't persuaded by better targeted offers to give up their personal data.
While almost 4 in 10 were happy to disclose their gender, and 37% would be happy to reveal their age, just 28% would be willing to share their name.
Marketers have a real task on their hands to convince consumers to part with valuable data. Unless consumers can see real value in divulging their details, they will remain reticent to share.
And, whatever you do, once you have coaxed from a consumer their cherished personal details, don't screw them up. Half of consumers in the study said that having their names misspelled was a real no-no and annoying. Be extra careful with gender, too, because addressing a Mr as Miss will cause resentment among 40%.
"When a visitor interacts with your online business, they are giving you their data in exchange for a relevant experience with your brand. If a business doesn't choose to make use of this data correctly, they are missing out on important knowledge that could positively or negatively impact business for years to come," says Emailvision Director Neil Hamilton.
"It's imperative that a customer never becomes 'just a number' even in a database of millions. Technology enables all businesses to treat their customers to a personalized experience across multiple sales channels."
ABOUT THE AUTHOR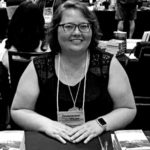 Kristina Knight is a freelance writer based in Ohio, United States. She began her career in radio and television broadcasting, focusing her energies on health and business reporting. After six years in the industry, Kristina branched out on her own. Since 2001, her articles have appeared in Family Delegate, Credit Union Business, FaithandValues.com and with Threshold Media.