Apple, Google drop out of most-trusted company top 20 rankings
The Ponemon Institute's annual "Most Trusted Companies for Privacy" study tracks consumer rankings of companies and organizations that collect and manage their personal information.
According to the new report, Americans are growing more and more distrustful of companies that collect user data. As a result of this expanding cynicism, mobile device users are rapidly losing faith in the companies they used to trust.
The just-released study reveals that Apple, a past high-ranking company, has dropped out of the Top 20 rankings to appear in 21st place.
Apple was ranked in eighth place on the Ponemon Institute's listing in 2009, dropping to 12th place in 2010 and 14th place in 2011.
According to AppleInsider.com's Kevin Bostic, "User privacy has long been a point of pride for Apple, and the company has gone to some lengths to protect that privacy. Last year, CEO Tim Cook reportedly "grilled" Path co-founder Dave Morin when it was revealed that the app was uploading users' address books without their permission."
American Express continues to top the list as the most-trusted company for privacy among the 217 organizations rated.
The list saw a few new entrants to the Top 20 including Microsoft (ranked 17), United Healthcare (ranked 18) and Mozilla (ranked 20).
Another large tech company to drop out of the Top 20 is Google, which was ranked 19th in last year's survey.
"We believe this research provides an unambiguous measure of how consumers perceive the privacy and personal data protection practices of specific organizations," says the study (.pdf). "While perception is not a perfect substitute for reality, in our experience this aggregated consumer view is an important indicator."
ABOUT THE AUTHOR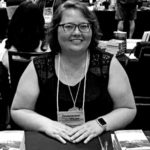 Kristina Knight is a freelance writer with more than 15 years of experience writing on varied topics. Kristina's focus for the past 10 years has been the small business, online marketing, and banking sectors, however, she keeps things interesting by writing about her experiences as an adoptive mom, parenting, and education issues. Kristina's work has appeared with BizReport.com, NBC News, Soaps.com, DisasterNewsNetwork, and many more publications.