Advertising: 2013 to be the year of the viewable impression
The first banner ad on the Internet received a click-through rate of 78%. Since that time, with the explosion of the Internet from a few thousand websites to trillions, click-through rates have dropped to their present 0.09%.
A significant proportion of online ads are served, and billed to the advertiser, but are never seen. Sometimes they appear below-the-fold and users don't scroll down the webpage far enough to see them. Other times ads above-the-fold are scrolled past before they have had a chance to load or aren't in view due to variations in browser size. Many people use ad-blocking software. There are a multitude of reasons why an ad may not be viewed.
Research by AdSafe found that over 38% of all display ads, irrespective of placement on a page, were either not in view or were in view for less than the half a second the IAB deem acceptable as an "ad view".
Furthermore, 97% of the ads not in-view for at least half a second were not in-view at all.
According to UK-based start-up OnScroll, 2013 will be the year advertising and publishing say goodbye to the CPM measurement and embrace CPMv (Cost Per Media Viewed). Their infographic, "The State of Viewable Impressions", shows that viewable impressions increase CTRs by 54.4% and engagement rates by 2.5 times.
"Publishers shouldn't view this transition as a threat, but an opportunity. With OnScroll, publishers can deliver dynamic inventory based on how their users engage with their web pages," said Babac Vafaey, co-founder of OnScroll.
"The end result is more ads of a higher quality being served, delivering increased revenues and for advertisers this means higher engagement rates which will ultimately deliver much better ROI on their advertising dollars."
OnScroll will officially launch in March 2013 at SXSW Interactive, at which time more details will be released on the full suite of available features and analytics available.
ABOUT THE AUTHOR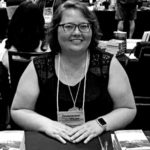 Kristina Knight is a freelance writer with more than 15 years of experience writing on varied topics. Kristina's focus for the past 10 years has been the small business, online marketing, and banking sectors, however, she keeps things interesting by writing about her experiences as an adoptive mom, parenting, and education issues. Kristina's work has appeared with BizReport.com, NBC News, Soaps.com, DisasterNewsNetwork, and many more publications.