Study: Merchants need to offer more online
According to new data out from The Acquity Group online stores need to offer more than just jeans, sweaters and electronics gear. Their data suggests that, in addition to trendy items, online retailers need to offer content – video, inventory status, customer service chats, etc. In addition to PC-based offerings like these, mobile strategy should include points like click-to-call, finds the report.
The study finds:
• 44% of retailers currently offer click-to-call on mobile sites
• 76% offer product zoom for PC browsers but only 39% offer on mobile screens
• 98% offer email opt-ins for PC browsers, 34% offer the same via mobile browser
"Now that brands recognize the importance of the mobile channel, their focus must shift to adopting forward-looking mobility strategies to augment their in-store and big browser sales channels," said Jay Dettling, Executive Vice President of Acquity Group. "Mobile is no longer a separate channel for eCommerce. Through this research, we uncovered many areas where brands lack progressive initiatives that contribute to a truly Omnichannel experience."
Meanwhile, data from Avaya finds that consumers are already changing how they interact with businesses depending on their location. In the past, a shopper would go to a service desk in-store or call an 800 number. Today's shoppers are going to mobile more often, contacting businesses from work or during the commute – and they expect immediate responses.
More than 40% of surveyed respondents told Avaya they preferred to deal with businesses online while 16% prefer to use social media. More than half (56%) say they feel a stronger connection with brands they connect with in the social space.
As for the importance of mobile now, data from The Search Agency shows clicks from tablets and smartphones increased to nearly 30% over Black Friday and to 20% (up from 8%, 2011) on Cyber Monday.
ABOUT THE AUTHOR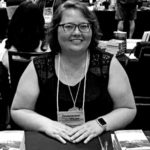 Kristina Knight is a freelance writer based in Ohio, United States. She began her career in radio and television broadcasting, focusing her energies on health and business reporting. After six years in the industry, Kristina branched out on her own. Since 2001, her articles have appeared in Family Delegate, Credit Union Business, FaithandValues.com and with Threshold Media.