How mobile is impacting the 2012 holidays
Kristina Knight: What trends are you seeing for mobile brands this holiday season?
Laura Marriott, CEO of NeoMedia Technologies: This year, online holiday sales are predicted to grow by 12 percent (NRF), and retailers are promoting new techniques to drive sales on mobile devices. In fact, Deloitte predicts that shoppers' smartphone activity, including research, coupon use and purchases, could account for $36 billion in holiday sales this year. Mobile technology is enabling brands and retailers to be truly creative, and many are delivering innovative mobile campaigns that drive engagement and sales.
A major trend we're seeing this year is the use of QR codes to drive brand engagement. This is because – simply put – they work. In fact, 94 percent of consumers recognize QR codes (PRS). Consumers are familiar with this technology, which makes it critical for brands and retailers to leverage this medium to drive sales and engagement. According to PRS Research, 76 percent of smartphone owners use their devices while shopping. Brands can't afford to not drive mobile engagement, and the medium that consumers recognize makes the most business sense. Some brands like Target and Macy's have implemented QR codes campaigns, and we expect to see many more brands and retailers get creative in their campaigns and incorporate mobile barcodes to help drive sales and customer loyalty.
In addition, all around us, we're seeing statistics on higher mobile ad spend and services that continue to provide productivity and ease of use for consumers. Because of rapid changes in devices and pricing plans, it's a natural fit for QR codes to continue to dominate as a mobile media element in 2013. The path to payment is going to be an integral fixture for mobile media in 2013 and QR codes are a cost-effective means to approach consumers for mobile commerce.
Kristina: Because of the competition that comes from mobile showrooming, are mobile coupons a good way to keep shoppers from store hopping?
Laura: Yes, in fact, research from Deloitte reveals that in 2013, 30 percent of smartphone owners are expected to redeem mobile coupons, up from 20 percent in 2011. Mobile coupons with instant redemption or additional incentives can help to keep shoppers in the store. With the holidays upon us, retailers have created their own compelling offers, store hours, sales, etc. Often the hot items of the season are all priced similarly, and so the experience becomes more of the incentive for where consumers choose to purchase items. And mobile plays an enormous role in that experience.
More from Laura and NeoMedia Technologies on Monday, including tips on improving the mobile experience into the New Year.
ABOUT THE AUTHOR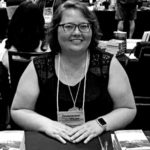 Kristina Knight is a freelance writer based in Ohio, United States. She began her career in radio and television broadcasting, focusing her energies on health and business reporting. After six years in the industry, Kristina branched out on her own. Since 2001, her articles have appeared in Family Delegate, Credit Union Business, FaithandValues.com and with Threshold Media.