comScore: $1 billion sold on Black Friday
The first 'official' 2012 holiday shopping day was a good one for online retailers. To date (November 1 – presents) nearly $14 billion has been spent online during the lead-up to the holiday season with $1.042 billion spent online last Friday. Thanksgiving Day also saw strong sales, clocking $633 million in sales.
"Despite the frenzy of media coverage surrounding the importance of Black Friday in the brick-and-mortar world, we continue to see this shopping day become more and more prominent in the e-commerce channel – particularly among those who prefer to avoid crowds at the stores," said comScore chairman, Gian Fulgoni. "With Black Friday online sales up 26 percent and surpassing $1 billion for the first time, coupled with early reports indicating that Black Friday sales in retail stores were down 1.8 percent, we can now confidently call it a multi-channel marketing phenomenon. Meanwhile, Thanksgiving Day – which has historically been a lighter online holiday shopping day – continues to gain steam and grew well ahead of the current pace as more consumers opted to kick off their holiday shopping immediately after the big meal to take advantage of aggressive retailer promotions. With Thanksgiving now behind us and most consumers returning to work tomorrow, we can look forward with anticipation to Cyber Monday, which according to norms we've observed over the past three years should be the heaviest online shopping day of the season with sales approaching $1.5 billion or even higher."
As for mobile numbers, IBM data shows a 14% increase in purchases via mobile with mobile traffic up nearly 28% overall. Conversion rates for the iPad device were shown as 4% higher than other mobile devices.
Experian/Hitwise is reporting similar numbers – their stats show the top 500 retail sites saw nearly 180 million total hits on Black Friday. The most visited sites included Amazon, Walmart, Best Buy and JC Penney.
As for what the weekend shopping means for Cyber Monday – one of the highest shopped days online, traditionally – we'll find out in a few hours. Experian/Hitwise notes that Cyber Monday was the highest shopped day online (2011) with 29% traffic growth to the top 500 retailers' sites.
ABOUT THE AUTHOR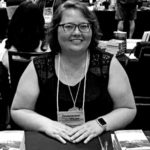 Kristina Knight is a freelance writer with more than 15 years of experience writing on varied topics. Kristina's focus for the past 10 years has been the small business, online marketing, and banking sectors, however, she keeps things interesting by writing about her experiences as an adoptive mom, parenting, and education issues. Kristina's work has appeared with BizReport.com, NBC News, Soaps.com, DisasterNewsNetwork, and many more publications.