Study: Interest in iPad Mini slim
If released this week, only about 18% of those surveyed by TechBargains reported interest in the mini version of the iPad; at the same time 45% said they were interested in getting the iPhone 5. Original iPad owners were found to be the most interested in the iPad Mini.
Of those who plan to buy, though, 14% say they'll stand in line on release day to get theirs.
"Given Apple's recent success it would be easy to assume that all new Apple products will be wildly popular. Our survey results indicate that theory is no longer the case," said Yung Trang, president and editor-in-chief ofTechBargains.com. "According to our survey respondents, the so called iPad Mini will not be highly coveted because consumers are questioning the necessity of a smaller iPad, especially if they own an iPad or an iPhone."
Kindle Fire owners were among those least likely to buy an iPad Mini, according to researchers
As for what is pushing interest in the Mini, most are looking for accessories – three-quarters say they're interested in a tablet with a USB slot or memory card slot, they want the Retina screen and better speakers.
As for why so few of those surveyed were interested, price is a sticking point. About 20% say they think the price will be too high for a smaller version of the iPad while one-third say a smaller iPad would simple be too small.
ABOUT THE AUTHOR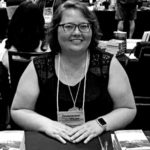 Kristina Knight is a freelance writer based in Ohio, United States. She began her career in radio and television broadcasting, focusing her energies on health and business reporting. After six years in the industry, Kristina branched out on her own. Since 2001, her articles have appeared in Family Delegate, Credit Union Business, FaithandValues.com and with Threshold Media.