UK: Impulse purchases increase among mobile, tablet shoppers
Shopping on a smartphone or tablet has become so quick and easy that consumers in the UK are spending more, according to new research from Rackspace (UK). Almost half (48%) of smartphone and tablet owners in the UK, equating to around 3.35 million people, confess to making more impulse purchases now thanks to their mobile devices.
The majority (71%) of those impulse shoppers say the reason they are making such purchases is that mobile technology enables them to do so quickly and easily. In fact, over a quarter of them (27%) said shopping via mobile was a better experience than shopping in-store.
In addition, Rackspace found that these mobile shoppers spent, on average, $534 (£329) extra per person per year.
While a few (18%) make impulse purchases via mobile from work, during a lunch break, most (62%) did so when at home with the hours between 7pm and midnight the most popular time to shop.
"We're a nation of bargain hunters, so tablets and smartphones make it easier than ever for consumers to keep their eyes open for great deals and snap things up wherever they are," says Fabio Torlini, VP of Cloud at Rackspace.
"This is good news for retailers in general of course, but our study provides some additional insight here. The retail trade still has work to do in order to convince the majority of the British public that using mobile devices to shop online is a safe, preferable and attractive alternative to logging on from their PC or visiting a store."
ABOUT THE AUTHOR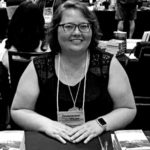 Kristina Knight is a freelance writer based in Ohio, United States. She began her career in radio and television broadcasting, focusing her energies on health and business reporting. After six years in the industry, Kristina branched out on her own. Since 2001, her articles have appeared in Family Delegate, Credit Union Business, FaithandValues.com and with Threshold Media.