BB Direct reveals new direct marketing database of U.S. religious institutions
BB Direct have added to their Business to Institution (B2i) files with the release of a new database of Churches by denomination. The file includes over 90 denominations including Buddhists, Christian, Islam, Jewish, non-denomination, and others.
Users can select church officials and decision makers by personal name or target by congregation size, denomination and buying propensity. Users may also choose direct mail, telemarketing, and email marketing channels.
If you're scratching your head and wondering who might want to target churches then consider this – places of worship require materials that many businesses use including office supplies, furniture, cleaning supplies, florists and even educational materials for childcare and computing.
"Our new Church Database enables marketers to select their church audience with greater granularity," said Brian Berg, CEO of BB Direct. "Marketers are able to cut mailing costs while pinpointing those same valuable responders."
The database is available on BB Direct's website for $45 for one time use or $90 for multi-use.
ABOUT THE AUTHOR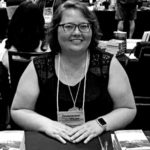 Kristina Knight is a freelance writer based in Ohio, United States. She began her career in radio and television broadcasting, focusing her energies on health and business reporting. After six years in the industry, Kristina branched out on her own. Since 2001, her articles have appeared in Family Delegate, Credit Union Business, FaithandValues.com and with Threshold Media.