Amassing Likes won't boost consumer trust
In their freely available research, About.com reveals that, for the vast majority of people, how many Likes a brand has on Facebook doesn't really matter.
Instead, respondents said that activity on the Page, or about it, was more likely to increase trust.
Specifically, half of those surveyed said that Pages that had a lot of positive user reviews, but didn't hide the negatives, were more likely to increase trust.
Compare that to just 26% of respondents who said that Pages with a lot of Likes boosts trust.
In fact, Likes seem to have little significance. "It's hard to tell how old a Like is, or why people were liking them", stated one respondent to About.com's survey, while another said "I wish Likes would just go away. What's the value?".
You can see their point. It's hard to tell whether a Page has lots of Likes due to a sudden surge from, say, a competition they ran or, indeed, how long ago they were added? How many people manage their Likes and delete those for brands they may no longer favor?
So, what aspects of social media integration do boost consumer trust? According to About.com's "The Trust Factor" report, it's more about what's happening on your Facebook Page and the input of friends rather than how many Like it:-
41% – Allowing me to see reviews from people in my social network
36% – Seeing photographs of people using the product/service
33% – A Like or recommendation from a friend.
27% – Connecting with people searching for the same information
26% – How many Likes a piece of content received
21% – Seeing that content has been Pinned
According to the report, "Trust is a powerful filter for sifting through all that info. 84% say that being trustworthy is a requirement before interacting with a brand or info source. Brands and content must trigger key trust "cues" in order to even be considered."
"By understanding how consumers view trust and what they value most, marketers can tailor their outreach to deliver meaningful information and tools to create authentic, long-lasting relationships," said Laura Salant, director, research, About.com.
You can read the full report online.
ABOUT THE AUTHOR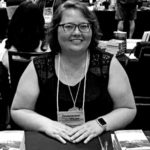 Kristina Knight is a freelance writer with more than 15 years of experience writing on varied topics. Kristina's focus for the past 10 years has been the small business, online marketing, and banking sectors, however, she keeps things interesting by writing about her experiences as an adoptive mom, parenting, and education issues. Kristina's work has appeared with BizReport.com, NBC News, Soaps.com, DisasterNewsNetwork, and many more publications.