Pew: Over half of U.S. pensioners online
For the first time, half of Americans age 65 and over are going online. Pew's latest data reveals that 53% of retirees are connected with recent growth exceeding that of the past few years.
Their Internet use isn't erratic, 70% use the Internet on a daily basis, compared with 82% of all Internet users. Email is popular with online seniors. Nearly half use email on a typical day. However, social networking sites, such as Facebook and LinkedIn, are not as popular. Just 34% of seniors use these at all, and only 18% on a typical day.
It's not just the Internet that has grabbed the attention of over 65s. About 70% own a mobile phone, up from 57% two years ago.
"It's great news for the relaunch of our website and PhotoVideogram App on Grandparents Day in September as the 'Grandparents.com Social Network,'" said Jeffrey Mahl, President of Grandparents.com, "The 50+ demographic is adopting the web at an ever accelerating rate, which enhances our strategic marketing plan to grow in the online business with America's greatest, most talented and experienced national resource – our grandparents! They have so much to give back."
Pew's research found that, after age 75, Internet usage drops off. Internet adoption among the "G.I. Generation" has only reached 34%.
ABOUT THE AUTHOR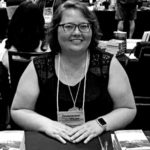 Kristina Knight is a freelance writer based in Ohio, United States. She began her career in radio and television broadcasting, focusing her energies on health and business reporting. After six years in the industry, Kristina branched out on her own. Since 2001, her articles have appeared in Family Delegate, Credit Union Business, FaithandValues.com and with Threshold Media.