Study: Blogging in decline as social media takes over
Back in 2010, half of companies had a corporate blog. In 2011 that figure declined significantly to just 37%. Among Fortune 500 companies, growth in blogging has leveled off with 23% continuing to blog in 2011, the same as in 2010, compared to 91% who use social media.
Why is blogging on the decline? It seems that social media such as Facebook and Twitter is easier to manage.
Rather than a long blog post once or twice a week, social channels can be maintained by quick and more regular injections of information such as photos, a one-liner or a poll question – just enough to say "we're still here".
Social use is overtaking not only blogging, but also message boards, video blogging, podcasting and MySpace.
"The fact that blogging had leveled off among the world's largest and most profitable companies raised questions about the use of this mature tool," states the accompanying press release.
"This study indicates that there is now support for the proposition that the use of blogging may have peaked as a primary social media tool in the US business world. The new data shows adoption of blogging is declining for the first time since 2007 among the Inc. 500 companies."
ABOUT THE AUTHOR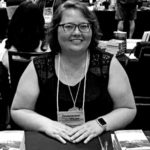 Kristina Knight is a freelance writer based in Ohio, United States. She began her career in radio and television broadcasting, focusing her energies on health and business reporting. After six years in the industry, Kristina branched out on her own. Since 2001, her articles have appeared in Family Delegate, Credit Union Business, FaithandValues.com and with Threshold Media.