Girl Scouts celebrate centenary, announce mobile payment adoption
On March 12, 1912, the first Girl Scouts of America troop was organized in Savannah, Georgia, by Juliette Gordon Low. A century later the troops are still going strong and evolving to ensure the girls learn real-world skills.
Girl Scouts enjoy experiencing a huge range of skills from cookery to forensics, and their existence relies on their various fundraising techniques.
This week it was announced that mobile technology is now making its way into the ranks as Girl Scouts in 23 States are set up to take mobile payments for their annual cookie fundraising program. The $760 million Girl Scout Cookie Program supports the girls' chosen activities for the year and funds community service and leadership programs, summer camp attendance, travel expenses and community events.
In partnership with mobile payments platform provider Sage North America, nearly 40,000 Girl Scouts are now able to accept mobile payments for cookie purchases. Early results are encouraging. Girl Scouts of North East Ohio troops using mobile payments technology at cookie booths have seen 13% or more increases in their sales. Troops not using mobile technology experienced flat sales.
"We want to give members real-world skills and applications they'll carry with them as they become adults," said Carol Smith, a leader of Girl Scout Troop 24 in Solon, Ohio. "Using Sage Mobile Payments is a great way for our girls to use technology to sell additional boxes of cookies. This is an example of something we teach our girls; using technology is a way to empower themselves."
The American Life and Pew Internet Project recently released data showing that nearly half (46%) of Americans aged 18 and older now own a smartphone. Smartphone owners now outnumber regular feature phone users.
ABOUT THE AUTHOR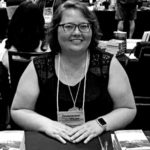 Kristina Knight is a freelance writer with more than 15 years of experience writing on varied topics. Kristina's focus for the past 10 years has been the small business, online marketing, and banking sectors, however, she keeps things interesting by writing about her experiences as an adoptive mom, parenting, and education issues. Kristina's work has appeared with BizReport.com, NBC News, Soaps.com, DisasterNewsNetwork, and many more publications.