Ypulse: Youths think AR apps as confusing, pointless as QR Codes
Augmented reality is a "futuristic media of the moment" according to Ypulse, yet even tech-savvy Millennials are having problems getting to grips with it.
Just 11% of high school and college students have ever used an augmented reality app. Of those that have used augmented reality apps just over a third (34%) think they're useful and easy to use and 26% think they're easy to use but not particularly helpful.
As with QR Codes, many young mobile users just don't see the point in augmented reality. Sure, it's clever and fun to use but without any real reward or value to the user the entire process can appear pointless.
However, more students think augmented reality apps are easier to use than QR Codes – 60% vs. 51%).
"That's likely because brands and companies that offer the apps have devoted a fair bit of their promotional efforts to explaining how to use AR, whereas retailers seemed to slap QR codes everywhere in the hopes that shoppers would figure them out," says Melanie Shreffler, Ypulse's editor-in-chief.
Late last year a survey by Archrival of 500 students from college campuses across the US found little enthusiasm for QR Codes. The little black and white pixilated squares were largely ignored, even though 81% of students had a smartphone and 80% had previously seen a QR Code.
Difficulties arose because some believed all that was needed was a camera and were not aware that a third-party app was required. Many got bored with the process as it took too long and others didn't want to download the scanning app.
ABOUT THE AUTHOR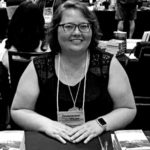 Kristina Knight is a freelance writer based in Ohio, United States. She began her career in radio and television broadcasting, focusing her energies on health and business reporting. After six years in the industry, Kristina branched out on her own. Since 2001, her articles have appeared in Family Delegate, Credit Union Business, FaithandValues.com and with Threshold Media.