Value of a Facebook shopper? Above average finds research
Nine times more valuable, to be exact. According to Sociable Labs research shoppers using Facebook Connect and Facebook Timeline applications click on social apps and share social content with friends nine times as often as those not using the apps. What do these social apps do? Facebook Connect acts as a social login – allowing shoppers to log in to an ecommerce site using Facebook rather than a stand-alone account; this also gives the etailers access to certain social information from that users.
"Based on our results, Facebook Connected users provide significant on-going value to retailers, as these users continue to engage and share at very high rates on return visits. Given this fact, the natural conclusion is that retailers should find engaging social experiences that motivate shoppers to connect, driving significantly higher LTV through on-going new customer referrals," was written in the report. "Beyond adding Like buttons and other social sharing features, you should consider adding a social login alternative to your site. Plus, consider adding the number 'Facebook Connected Users' as a key performance indicator for your social strategy."
Researchers studied shoppers who engaged with certain social shopping apps on retailer websites; more than one million 'Call to Action' clicks were studiend using more than 40 social sharing applications on Facebook; the data was collected between October 2010 and January 2012.
Meanwhile, in a related report, Plimus found virtual gifts – including social gaming credits – are becoming more sought-after for both senders and receivers. Although their survey focused on Valentine's Day correlations can be drawn to other holidays – including the upcoming Mother's Day and Father's Day celebrations.
Their research shows 43% of consumers would 'like to receive' a digital gift and that about 25% plan to gift social gaming credits to loved ones. One drawback – the sharing of information. Two-thirds of respondents said they would be 'more willing to purchase' virtual goods if they didn't have to share so much personal information.
ABOUT THE AUTHOR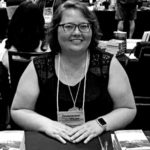 Kristina Knight is a freelance writer with more than 15 years of experience writing on varied topics. Kristina's focus for the past 10 years has been the small business, online marketing, and banking sectors, however, she keeps things interesting by writing about her experiences as an adoptive mom, parenting, and education issues. Kristina's work has appeared with BizReport.com, NBC News, Soaps.com, DisasterNewsNetwork, and many more publications.