Tools give SMBs more insight into social, mobile
First, from Visible Technologies, the VI-Lite solution small businesses integrate social media data within their digital strategy – at a price they can afford. Utilizing the Visible Intelligence platform brands can manage social conversations and through V-IQ can monitor social media conversations and updates across a variety of platforms through a single dashboard.
Kelly Pennock, CEO of Visible Technologies said, "With VI∙Lite we've leveled the playing field for small to medium sized businesses by providing access to the same technology being used by large enterprises. A key to this is having a real-time understanding of what the market is saying and making better informed decisions based on social data."
Meanwhile from j2 Global, two additions to their mobile offerings. The company has released an iPhone app, with digitized signatures, for eFax; they've also added an eVoice Android app with VoIP. These types of apps help smaller businesses control communication costs while giving more flexibility to the work environment. E-signatures, especially, have seen a bit of a resurgence over the past couple of years; the ability to e-sign through a mobile app offers even more versatility to the business.
"eFax users expressed the need to provide approvals and authorizations in a simple and quick way when away from their desks," said Mike Pugh, vice president of marketing for j2 Global. "For our customers who spend time in airports, taxis, conference rooms, and customer sites, the app now includes the ability to add their digitized signature to documents right from their iPhone."
ABOUT THE AUTHOR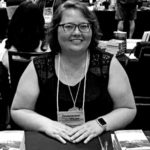 Kristina Knight is a freelance writer based in Ohio, United States. She began her career in radio and television broadcasting, focusing her energies on health and business reporting. After six years in the industry, Kristina branched out on her own. Since 2001, her articles have appeared in Family Delegate, Credit Union Business, FaithandValues.com and with Threshold Media.