Survey reveals social TV's unexpected impact on live TV viewing
The findings of TV Guide Digital's February 2012 survey reveal that less people are watching television content on time-delay or streaming to avoid spoilers they might encounter when using their social networks. Just over a quarter (27%) of respondents said they're watching more live television for that reason, up from 20% in 2010.
It's not just spoilers on social networks that prompt live viewing. It's become a common activity for discussions about television programs to take place on social networks both during and after they are aired, an activity in which those who have chosen to delay watching a program aren't able to participate.
Social impressions also influence what is watched. Almost half (48%) of respondents said they have started (17%) or continued (31%) to watch a television show because of a social impression.
Users who were influenced to begin watching a television show did so for a variety of reasons. Over three-quarters did so because "people had good things to say about it", 64% had their interest piqued by topics and storylines that were discussed and 13% tuned into a show because they like to watch what others watch.
Users who were influenced to continue watching a show did so because social impressions kept them interested (77%), they were interested in storylines and topics (66%) or because of a controversial storyline (34%).
In October last year NM Incite and Nielsen released some interesting findings regarding social habits surrounding television viewing.
– Over half (55%) of women talk about television programs on social media compared to 45% of men
– Midweek is when most social TV conversations take place
– 54% of 18-49 year olds check in with social media to discuss favorite shows.
ABOUT THE AUTHOR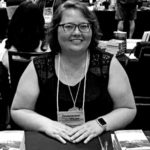 Kristina Knight is a freelance writer with more than 15 years of experience writing on varied topics. Kristina's focus for the past 10 years has been the small business, online marketing, and banking sectors, however, she keeps things interesting by writing about her experiences as an adoptive mom, parenting, and education issues. Kristina's work has appeared with BizReport.com, NBC News, Soaps.com, DisasterNewsNetwork, and many more publications.