Yesterday I reported on data that suggested Brits are becoming bored with Facebook. Today Experian Hitwise data shows the Australians may be harboring the same attitude.
And now, recent reports even suggest that the 'f' in f-commerce may stand for "fail".
With a user-base approaching 1 billion, brands and companies have had high hopes for the social network. Not only could they engage with consumers but many had an eye on using Facebook to sell their wares.
However, reports illustrate that quite a few f-commerce players have already shut up shop, disillusioned with the reality and potential of the exercise.
With over 3.5 million Facebook Fans, Gamestop opened up a store on Facebook only to shut it down six months later. Other big brands have done the same including Gap, J C Penney and Nordstrum.
Put simply, consumers are happy to Like and recommend brands and companies on Facebook but they don't see it as the place to make purchases. Most consumers already find what they want easy to purchase online direct from websites.
"There was a lot of anticipation that Facebook would turn into a new destination, a store, a place where people would shop," says Forrester Research analyst Sucharita Mulpur, via Bloomberg. "But it was like trying to sell stuff to people while they're hanging out with their friends at the bar."
But, as Wade Gerten, chief executive officer of social media developer 8thBridge, points out in an article to counter Bloomberg's doom and gloom piece, there are f-commerce success stories, too. The companies that empower people to promote their products to their friends instead of spamming Fans with brand messaging are the ones seeing real results, he says.
ABOUT THE AUTHOR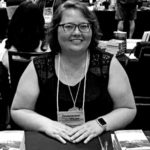 Kristina Knight is a freelance writer with more than 15 years of experience writing on varied topics. Kristina's focus for the past 10 years has been the small business, online marketing, and banking sectors, however, she keeps things interesting by writing about her experiences as an adoptive mom, parenting, and education issues. Kristina's work has appeared with BizReport.com, NBC News, Soaps.com, DisasterNewsNetwork, and many more publications.