Platform helps shoppers find deals via mobile
"There's a ton of innovation taking place right now within the mobile app space and the world of shopping, and we are honored to be working with many of the most exciting companies driving this trend," said Spotzot co-founder Jim Schreitmueller, vice president of sales and business development. "Our goal is to deliver the best deal content from both in-store and online merchants, accessible in a contextual manner that supports a variety of shopping use cases. Our partnerships with FastMall and Point Inside provide maps of more than 1,000 major malls and outlet centers that make it easy for shoppers to find merchants with deals."
What makes Spotzot different it the way it offers information. Rather than a simple listing of products or deals it offers shoppers content – another hot area. The company has also recently partnered with FastMall and Point Inside, two popular mall apps that help consumers find things in brick-and-mortar stores.
"From a consumer's perspective it's about convenient, useful information that they can get to easily," said Schreitmueller. "At a mall there could be 200 stores; using Spotzot merchants have the potential to serve deals and information for at least half of those stores. Those deals can be shopped by category, price, etc."
FastMall and PointInside use Spotzot landing pages so that deals and information are easy to find. Deals are contextually targeted and based on location.
ABOUT THE AUTHOR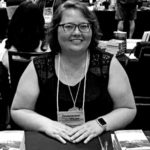 Kristina Knight is a freelance writer based in Ohio, United States. She began her career in radio and television broadcasting, focusing her energies on health and business reporting. After six years in the industry, Kristina branched out on her own. Since 2001, her articles have appeared in Family Delegate, Credit Union Business, FaithandValues.com and with Threshold Media.