Mobile shoppers prefer browser-based commerce to apps
The survey by rich media company Zmags found that while the vast majority of tablet owners used their devices to shop during the holiday period very few preferred to use branded apps to do so.
Nearly nine out of 10 (87%) of tablet owners used their device for their 2011 holiday shopping and spent an average of $325 with their tablets. Furthermore, more than half of them browse or shop from their tablets at least weekly.
But, while brands invest in mobile apps to serve their mobile customers Zmag's survey of 1,500 consumers who own a smartphone, tablet or computer revealed that just 4% prefer to shop using mobile apps on their smartphones or tablets.
By comparison 14% prefer to shop via mobile websites on their smartphones and 9% with tablets.
"The study clearly demonstrates that mobile and tablet apps, on their own, are just not meeting connected consumers' browsing and purchasing needs in an increasingly complex retail landscape – and that browser-based commerce is their preference." said W. Sean Ford, COO and CMO of Zmags.
"For retailers and brands, there is enormous opportunity to capitalize on this complexity by designing engaging and consistent browser-based shopping experiences optimized for each device."
ABOUT THE AUTHOR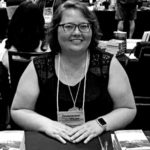 Kristina Knight is a freelance writer based in Ohio, United States. She began her career in radio and television broadcasting, focusing her energies on health and business reporting. After six years in the industry, Kristina branched out on her own. Since 2001, her articles have appeared in Family Delegate, Credit Union Business, FaithandValues.com and with Threshold Media.