comScore: 31% of display ads wasted
Using new measurement software called "Validated Campaign Essentials" (vCE) comScore is now able to provide advertisers with an analysis of which ads in an online campaign are viewed by Internet users. The software only tracks display ads on computers, not on smartphones or tablets, and for ads to be deemed "in-view" they must be viewable for at least one second.
The initial results show that, on average, 31% of online display ads aren't seen by users. Why? Sometimes the ads appear "below the fold" and users don't scroll down the webpage far enough to see them. Other times ads that are placed "above the fold" are scrolled past before they have had a chance to load.
As for geo-targeting of display ads this appears effective with, on average, just 4% of impressions wasted on folk that aren't in the right geographic location or where a product wasn't even available. This figure rose to 15% in some analyzed campaigns.
Bad ad placement is also tracked. Inappropriate display ad placements were evident in almost three-quarters (72%) of campaigns. Apart from a wasted ad these could also do damage to a brand.
"It is critical that we can understand the extent to which ads delivered on our sites are actually viewed by the intended audience. This type of insight allows us to improve our relationships with consumers and our advertising partners," said Scott McDonald, Senior Vice President, Research and Insights, Conde Nast.
ABOUT THE AUTHOR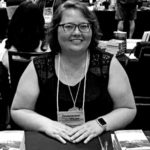 Kristina Knight is a freelance writer based in Ohio, United States. She began her career in radio and television broadcasting, focusing her energies on health and business reporting. After six years in the industry, Kristina branched out on her own. Since 2001, her articles have appeared in Family Delegate, Credit Union Business, FaithandValues.com and with Threshold Media.