Mobile purchases for real and virtual goods up
According to MocoSpace younger gamers are spending more time playing games but are being out-spent in the virtual goods category by their older counterparts. Gamers over age 45 are seven times as likely to spend actual cash on virtual goods, finds MocoSpace, while younger games (age 18-25) are the least likely to spend money on virtual goods. In fact less than one-third (32%) of gamers between ages 18 and 35 have purchased virtual goods while half of gamers between ages 35 and 45 and 80% of gamers over age 45 have purchased virtual goods.
"We're seeing parents go from spending money on buying games for their kids, to spending money on virtual goods in games for themselves. The time-versus-money balance seems to come into play here, where young people have more time than money, and the reverse holds true as we all grow up," said MocoSpace CEO Justin Siegel.
The study is an indicator that game advertisers need to appeal to more than the younger demographics when strategizing campaigns.
As for real goods, Linkable Networks, formerly CLOVR Media, has released a first of its kind solution: card linked offers via mobile. In partnership with mphoria, Linkable Networks will allow shoppers to 'link' retail discounts seen in ads directly to a credit or debit card so that savings post automatically.
"Consumers are increasingly using their smartphones to shop and adopting mobile platforms to seek out savings," said Tom Burgess, CEO of Linkable Networks. "Our partnership with mphoria and CardStar will enable those savvy shoppers to experience modern digital coupons at their fingertips and link them to their existing credit or debit card. Shoppers should be on the lookout for the Linkables logo in mobile ads to add new savings to their digital wallets."
ABOUT THE AUTHOR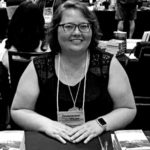 Kristina Knight is a freelance writer based in Ohio, United States. She began her career in radio and television broadcasting, focusing her energies on health and business reporting. After six years in the industry, Kristina branched out on her own. Since 2001, her articles have appeared in Family Delegate, Credit Union Business, FaithandValues.com and with Threshold Media.