Elastic Path: 27% of holiday shoppers to buy virtual gifts
Elastic Path's report, "Virtual Goods Mean Real Money This Holiday" (.pdf), reveals that 27% of holiday shoppers intend to buy digital goods as gifts this year. Furthermore, over a third (36%) intend to spend more on virtual gifts this year than last.
The type of content being considered as gifts is much the same as last year with games (21%) and music (20%) remaining the most popular. This year, however, instead of magazines and newspapers being in third place it is in fourth (13%) with third instead filled by ebooks (16%) and TV shows and movies (16%).
"Attracting the digital goods shopper is crucial this holiday season. Thirty percent of digital goods consumers plan to spend more than last year on gifts of all types, with an average budget that is significantly larger than that of 'traditional' gift buyers," says Elastic Path's report.
"In an otherwise subdued holiday outlook, retailers and e-tailers that ignore the virtual goods buyer do so at their peril, forfeiting sales to more forward-thinking competitors."
The most popular format for digital content purchases is physical gift cards (58%) over half of which will be bought in a physical store such as Walmart. These are followed closely by individual movies, songs, and other similar media (55%).
The top five reasons for choosing digital goods as gifts were:
1. Can be bought at the last minute and delivered instantly.
2. Fast and easy to purchase.
3. No delivery costs.
4. No need to wrap or ship.
5. Can be sent anywhere in the world.
The major downsides to gifting digital goods are they are less personal and lack the fun of ripping open a present as well as being less aesthetically pleasing.
ABOUT THE AUTHOR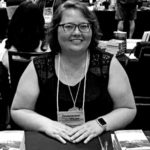 Kristina Knight is a freelance writer based in Ohio, United States. She began her career in radio and television broadcasting, focusing her energies on health and business reporting. After six years in the industry, Kristina branched out on her own. Since 2001, her articles have appeared in Family Delegate, Credit Union Business, FaithandValues.com and with Threshold Media.