Who's on social media? Everyone and their grandmother, finds study
According to the report 98% of 18-24 year old Americans are active on social media (monthly); 129 million Americans are checking in with Facebook, Twitter or other social networks each month. The fastest adoption rates are among older Americans, likely because so many younger people are already active within social networks. Other interesting findings include:
• 3 of 4 Seniors and 82% of those 55-64 use social media
• 46% use social media to connect with friends
• 18% of parents say they use socnets to connect with their children
• 27% of siblings are using social media to stay connected
• 30% of Hispanics follow favorite brands through social media, 18% of non-Hispanics do so
• Residents in 'college towns' are more likely to be 'heavy' Facebook users
With the use of social media continuing its fast adoption and more people logging on to the Internet to watch video programming, a new offering from General Sentiment and Q Scores may hold a lot of appeal for marketers. Called GSQ Social TV Audience Reaction (STAR) Monitor, the platform measures prime-time programming across the social field – measuring conversations about programs, actors, etc. – so that brands know which programs hold appeal and are getting buzz.
Greg Artzt, CEO of General Sentiment said, "But determining the audience's emotional reaction in addition to the audience's long-term commitment is necessary in order to get a more meaningful picture of a show's success."
Meanwhile, General Sentiment's other release, SocialRank, helps brands determine what their social footprint is. General Sentiment and Bluetext collaborated on the tool which helps brands or advertisers quickly see how people are reacting to their campaigns within the social space.
"Social media is an essential element of every marketing and communications campaign, and every company needs to know how its brand is being perceived across all platforms," said Bluetext Principal and Co-Founder Jason Siegel. "While making a lot of noise can be effective, the sentiment of what customers, partners and other constituencies are saying and how you are being perceived is the most critical success factor. SocialRank can quickly tell you where you stand."
ABOUT THE AUTHOR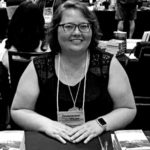 Kristina Knight is a freelance writer based in Ohio, United States. She began her career in radio and television broadcasting, focusing her energies on health and business reporting. After six years in the industry, Kristina branched out on her own. Since 2001, her articles have appeared in Family Delegate, Credit Union Business, FaithandValues.com and with Threshold Media.