Study: Elders more likely to click if ad is relevant
Researchers found that, regardless of age, non-relevant ads were equally disliked no matter which age group was viewed. In the Crowd Science "Just Ask" study 76% of older Americans (Age 55+) clicked online ads while only 58% of those age 15-24 had clicked. The proviso is that those ads were relevant to the consumers; non-relevant ads were found 'irritating' by nearly half of both age groups.
Other interesting findings include:
27% of all respondents reported they would be more tolerant to ads made relevant to themselves
College grads are more likely to click than high-school grads (71% vs 59%)
Men were engaged most (30%) by targeted/relevant ads
22% of men, 10% of women say they don't click because they don't want to leave a webpage
Virus fears top the Reasons Not To Click list for many consumers
24% of respondents 'arbitrarily ignore' online ads
Two new releases in the online space may help advertisers ensure the ads presents to consumers are relevant.
First, Tribal Fusion has integrated BlueKai's Exchange data, enabling their platform to target ads in real time. Through the integration marketers can target planned display campaigns based on purchase intent and other behaviors.
Meanwhile, for video-specific advertisers, Affine and LiveRail have partnered to enable real-time targeting capabilities within the video space. LiveRail will integrate Affine's Contextual Targeting Platform so that users can better target their ad buys based on video content.
ABOUT THE AUTHOR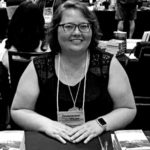 Kristina Knight is a freelance writer with more than 15 years of experience writing on varied topics. Kristina's focus for the past 10 years has been the small business, online marketing, and banking sectors, however, she keeps things interesting by writing about her experiences as an adoptive mom, parenting, and education issues. Kristina's work has appeared with BizReport.com, NBC News, Soaps.com, DisasterNewsNetwork, and many more publications.