IMRG: Tablets trump smartphones for online shopping
Tablet owners are more likely to use their device throughout the online purchase process than their smartphone-wielding counterparts, according to new research conducted by eDigitalResearch for online retail trade body IMRG.
Almost half (48%) of tablet owners used their device to undertake product research compared to 29% of smartphone users. At the other end of the purchase process tablet owners still come out on top. More tablet owners have used their device make a purchase online (30%) than smartphone users (25%).
"This research reinforces the fact that retailers need to get a mobile strategy in place, especially with so many predictions that tablets will outstrip laptop sales within a few years," said David Smith, chief marketing and communications officer at IMRG.
Respondents to the survey also demonstrated a willingness to adopt new contactless payment technologies with almost half prepared to make purchases to the value of $32 via this method when made available.
Earlier this year Forrester Research and Bizrate Insights released findings of a study that found while only 9% of online shoppers currently own a tablet device most also own a smartphone and PC yet prefer to use their tablets for shopping.
Why the preference for shopping on their tablets? The larger screen is an obvious draw, making it easier to browse websites, view product imagery, click links and enter payment information. Couple this with the portability and rich content offered by apps that make the experience more engaging and innovative and you've got the perfect shopping partner.
ABOUT THE AUTHOR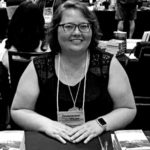 Kristina Knight is a freelance writer based in Ohio, United States. She began her career in radio and television broadcasting, focusing her energies on health and business reporting. After six years in the industry, Kristina branched out on her own. Since 2001, her articles have appeared in Family Delegate, Credit Union Business, FaithandValues.com and with Threshold Media.