Report: Social commerce on the rise with younger generation
The report from JWT finds that younger consumers, especially, are engaging with social commerce offerings. Roughly 40% of Millennials in both the US and UK say they would shop more within Facebook's shell if the opportunities existed. Only about 26% of Gen Xers and 16% of Boomers said the same things.
"There's a great deal of hype in this early stage of Social Commerce, as brands experiment with ways to mesh the social graph with shopping," said Ann Mack, Director of Trendspotting with JWT. "What's clear is that there's tremendous potential here for brands to create more personal, accessible experiences and to amplify word of mouth, especially when it comes to targeting Millennials."
Other interesting findings from the report include:
Half of Millennials say shopping via Facebook wouldn't be a hardship
48% of Millennials want favorite shopping hubs/brands had a sales page within Facebook
The biggest drawback to F-commerce is privacy; many consumers are concerned about the security of Facebook
46% believe social graphs, offering personalized recommendations, would help purchase decisions
Data from Hitwise finds that Facebook is still the number one trafficked website in the US with an 11% share of visits (week ending July 2, 2011); the social network holds a 60% visit share compared to other socnets. Other social sites lag behind by at least 20%, with YouTube the closest competitor (22% share). Meebo and Twitter rank third and fourth with just over a 1% share of visits and MySpace, the network that started the trend, lagged into the fifth slot with less than a 1% share of visits.
ABOUT THE AUTHOR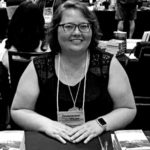 Kristina Knight is a freelance writer based in Ohio, United States. She began her career in radio and television broadcasting, focusing her energies on health and business reporting. After six years in the industry, Kristina branched out on her own. Since 2001, her articles have appeared in Family Delegate, Credit Union Business, FaithandValues.com and with Threshold Media.