Report: 80% increase in socnet use from SMBs
Although social networks haven't proven to be a huge impetus to buy products or increase traffic for small businesses, managers and owners continue to push time and effort into the social space because consumers continue to congregate there. Constant Contact's Small Business Attitudes and Outlooks Survey found:
• 80% of small businesses have increased their socnet usage in the last year
• 95% are using Facebook with 82% reporting that Facebook is 'an effective tool' to market their business
• 47% find Twitter effective, 47% find LinkedIn effective
• 73% find YouTube effective
"The value proposition that social media marketing offers to small business makes it a no brainer for time- and resource-starved small businesses. They simply need coaching and know how to use those tools in the best way possible," said Gail Goodman, CEO of Constant Contact. "Email is still the most obvious choice to make sure your message gets out, and social media puts that message in front of a wider audience. We like to say that email lights the fire, while social media fans the flames."
Are these small businesses fooling themselves? Likely not, because they look at social media as complimentary to an overall online strategy rather than pushing all of their efforts into the social space, a key point according to several experts. SMBs are continuing to use email (91%), websites (95%), print (77%) and online (69%) methods to engage consumers with their products and services.
SMBs are looking forward with greater hope, according to the survey. As consumer confidence rises, SMBs confidence in the economy is also improving. SMBs are looking for new ways to engage consumers to grow their business, they are looking for ways to make their dollars stretch and to get new business referrals.
ABOUT THE AUTHOR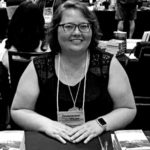 Kristina Knight is a freelance writer based in Ohio, United States. She began her career in radio and television broadcasting, focusing her energies on health and business reporting. After six years in the industry, Kristina branched out on her own. Since 2001, her articles have appeared in Family Delegate, Credit Union Business, FaithandValues.com and with Threshold Media.