Mobio: 4549% YoY rise in QR code scanning
Let me just repeat Mobio's finding once more – QR code scanning rose a whopping 4549% within one year.
Has it sunk in yet?
Thanks to the proliferation of QR code campaigns by big brands, and improved smartphone technology, consumers are more aware of, and more willing to use, 2-D barcodes – the naked truth is in Mobio's report.
In fact, the number of consumers who added QR scanning capabilities to their devices during the first quarter of this year increased an impressive 938% from the same period a year ago.
The vast majority (89%) of QR code scans resulted in the receipt of information about a product or service, although consumers are slowly catching on to using QR codes to make mobile payments, too.
Mobio's report, found that women dominate QR code scanning – 68% vs 32% – most likely because they hold the household budget purse-strings and are more likely to take advantage of marketing devices that promise discounts and money-saving tips.
Almost three-quarters (71%) of QR code scanners are aged between 25 and 54, the largest segment being in the 35-44 year old range. However, Mobio's data shows significant growth in use among the 55+ age group which jumped from 11% in December 2010 to 13% today.
QR code scanning in the "real world" remains low at 4%, but is still higher than non-social online scanning (3%) and print media scanning (1%). Mobio's research found that most QR scanning occurs from online social media (70%) where Facebook and Twitter dominate, or via television (22%).
Expect these figures to change drastically in coming months as QR codes find their way into more media, particularly print newspapers and magazines, thanks to the interest of publishers such as Conde Nast.
Consumers aren't just scanning one code for novelty value, either. They're curious and want to scan more. Two-thirds (62%) of QR scanners scanned more than one code in Q1 of this year, and the number of people scanning more than five codes doubled (22% vs 10%).
And then there are the 'super scanners'. This group was found to have scanned QR codes hundreds of times more than the average scanner. While some allowance has to be made for the exuberance with which people experiment with new technology, one reason for this extreme scanning behavior could be the gaming of "one entry per scan" contests and promotions.
And finally, which devices are QR code scanners using? According to Mobio:
1. iPhone
2. iPod Touch
3. Android
4. GT-1600
5. Samsung-SGH
6. PC 3610
7. X10
8. iPad
9. Blackberry Bold 9700
To get the full whiplash effect you can read Mobio's complete findings by scanning the QR code above or by clicking here.
ABOUT THE AUTHOR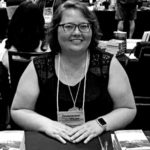 Kristina Knight is a freelance writer with more than 15 years of experience writing on varied topics. Kristina's focus for the past 10 years has been the small business, online marketing, and banking sectors, however, she keeps things interesting by writing about her experiences as an adoptive mom, parenting, and education issues. Kristina's work has appeared with BizReport.com, NBC News, Soaps.com, DisasterNewsNetwork, and many more publications.