New poll reveals Twitter use among PR/Marketing professionals
While complete poll results will be revealed in a free hour-long webinar this Wednesday, April 27, iPressroom has released some tantalizing tidbits.
For instance, their poll shows Twitter to be a popular social media tool among PR and marketing professionals with only 14.5% not using the micro-blogging platform.
However, a whopping 65% foresee Facebook replacing their Twitter presence.
Furthermore, the top five brands followed by PR and marketing professionals are – in order of popularity – Facebook, Zappos, Starbucks, Southwest and Whole Foods.
According to Maggie Fox, CEO of the Social Media Group, Twitter is "the circulatory system of the news cycle", providing a constant stream of valuable information and perspectives for PR and marketing professionals to watch in real-time.
Registration for the online webinar can be sorted here.
ABOUT THE AUTHOR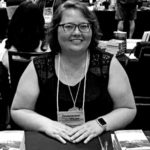 Kristina Knight is a freelance writer based in Ohio, United States. She began her career in radio and television broadcasting, focusing her energies on health and business reporting. After six years in the industry, Kristina branched out on her own. Since 2001, her articles have appeared in Family Delegate, Credit Union Business, FaithandValues.com and with Threshold Media.