Internet radio's 'Super Demographic' exposed
In recent research, "Digital Audio Usage Trends: A Highly Engaged Listenership", TargetSpot looked in-depth at who was listening to Internet radio.
They found that almost 4 out of 10 people (39%) in the US listen to Internet radio on a regular basis, with 80% of those listeners tuning-in for about one to three hours per day.
Those listeners are not station-loyal, according to TargetSpot's research, with the majority (73%) changing stations throughout the day.
Around half (45%) listen to Internet radio on their phones, and 14% via a tablet, but most listen on their personal computers (96%). Interestingly, those tuning-in via a tablet are more likely to spend 4 or more hours listening each day (25%) than personal computer listeners (23%) or mobile/smartphone listeners (16%).
TargetSpot also revealed what they dub a "Super Demographic' among Internet radio users. This demographic, they say, is "tuned-in, highly engaged and influential" and should not be overlooked when developing online marketing campaigns.
As if to underline its importance in the marketing mix, TargetSpot reports 3.5 times higher ad response rates when Internet radio is part of a broadcast radio campaign. Furthermore, adding Internet radio to online campaigns resulted in ad response rates two times higher than without.
"The explosion in digital audio usage has created a very large and influential audience of connected individuals that consume more and more audio content," said Rick Ducey, Chief Strategy Officer at Bia/Kelsey.
"Tapping into this audience represents an enormous opportunity for advertisers to increase both the reach and effectiveness of their online advertising and/or Broadcast Radio campaigns."
According to eMarketer, $800 million will be spent in the US on Internet radio advertising this year, an increase of 27.4% over 2010. That figure is expected to double by 2015 to $1.6 billion.
ABOUT THE AUTHOR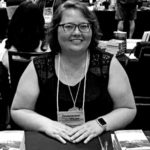 Kristina Knight is a freelance writer with more than 15 years of experience writing on varied topics. Kristina's focus for the past 10 years has been the small business, online marketing, and banking sectors, however, she keeps things interesting by writing about her experiences as an adoptive mom, parenting, and education issues. Kristina's work has appeared with BizReport.com, NBC News, Soaps.com, DisasterNewsNetwork, and many more publications.