Facebook display ad revenues to surge 80% this year
While Yahoo's display ad revenue will increase by a decent 16.4% to $1.65billion this year, the world's most popular social network will see its display ad revenues surge by a massive 80.9%.
In 2011, Facebook will command 21.6% of all online display ad dollars in the U.S., or $2.19 billion, says the eMarketer report, up from 13.6% last year and 7.3% in 2009.
Facebook's revenue share is set to rise further in 2012 to 23.8%.
Google is expected to pass Yahoo and fall into second place in display advertising by 2012 with 16.7% of the market.
"Yahoo!'s US display ad revenues will increase by double digits each year from 2010 through 2012. Despite that, not only will Facebook's display revenues surpass Yahoo!'s this year, Google's revenues will exceed Yahoo!'s next year," said David Hallerman, principal analyst at eMarketer.
"What that leapfrogging trend confirms is the strong demand among brand marketers for online display ad placements."
However, while Yahoo CEO Carol Bartz agrees Facebook is the company's biggest competitor, she believes the offerings of the two companies are not comparable.
"There's some confusion about whether Facebook leads in display advertising," she said. "It's because they have a lot of little impressions. We actually lead in display revenue."
ABOUT THE AUTHOR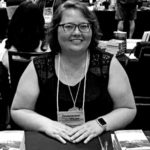 Kristina Knight is a freelance writer based in Ohio, United States. She began her career in radio and television broadcasting, focusing her energies on health and business reporting. After six years in the industry, Kristina branched out on her own. Since 2001, her articles have appeared in Family Delegate, Credit Union Business, FaithandValues.com and with Threshold Media.