Brands: Look for viewers to multi-task during Super Bowl XLV
Overall, most Super Bowl viewers will watch the game for the big plays or to follow their favorite players, but a full 44% report they'll be watching for the fun commercials, the half-time show or just for fun. Of those watching, most (71%) will watch from home. That, of course, doesn't mean they will be fully attentive for the entire game.
While watching the game, many will also be texting, talking, checking stats or even looking for highlight clips from a mobile device. Viewers also report they'll be checking in on social networks during the game. And, yes, mobiles will be the device of choice with 45% reporting they'll check in on game-related activities from mobiles while only about 22% report they'll check in from a PC.
Here is how the multi-tasking breakdown is expected to go:
• 59% of viewers will text about the game
• 32% report they will post about the game to their social network
• 18% will check advertising replays from mobiles
• 18% plan to visit advertiser websites from mobiles
• Women are most likely (37%) to post to socnets about the game
"As smartphone adoption continues to grow…advertisers must consider the pivotal role of mobile in their efforts to connect with consumers," said Chris Urinyi, CEO of Lightspeed Research in The Americas. "The Super Bowl has always presented an exceptional way to reach the American public, but TV ads today are just one piece of the puzzle. For brands, there's a viable opportunity for real-time social engagement and promotion due to TV's heavy competition from increasing numbers of smartphones and PCs in use during the game."
So, brands, if your campaign isn't mobile friendly do what you can to make those last minute changes to bring mobile into the circle. And, if you can't make changes or additions, be sure to engage mobile in future sporting events – like the NCAA Men's Basketball Tournament coming up in March.
ABOUT THE AUTHOR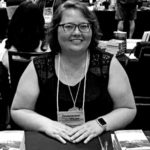 Kristina Knight is a freelance writer based in Ohio, United States. She began her career in radio and television broadcasting, focusing her energies on health and business reporting. After six years in the industry, Kristina branched out on her own. Since 2001, her articles have appeared in Family Delegate, Credit Union Business, FaithandValues.com and with Threshold Media.