Is Kindle killing print books?
The U.S. Kindle store now contains over 810,000 ebooks, as well as millions of free titles. Sales of the device remain strong, too, with millions sold in the last quarter of 2010 alone.
Such is the popularity of ebooks that, in the final quarter of last year, Amazon sold three times as many Kindle ebooks as hardcover books.
Already in this first quarter of 2011 another significant statistic has emerged from the company's latest earnings announcement.
Kindle ebook sales have now surpassed paperback book sales, a milestone not expected to be reached until the second quarter of this year. Amazon now sells 115 Kindle ebooks for every 100 paperbacks, even excluding downloads of free titles.
But not everyone is enamored with Kindle and the changes it heralds for the future of books. As many once rallied against the decline of vinyl records, now some are taking action against ebooks.
A publisher and book store owner in Portland, Oregon, feels so strongly about what he calls "soulless faux-literary technology" that he's offering to swap unwanted Kindles for the equivalent value in good old-fashioned new or used paper tomes.
Is the end really nigh for paper-based books? Not yet.
According to recent research into book buying behavior by Verso Digital, Kindle and other e-reader owners aren't currently foregoing paper for screens. In fact, their ebook appetites barely impact upon purchases of printed material. Verso Digital's survey of nearly 4,000 U.S. adults found e-reader owners buy nearly as many print books as ebooks.
ABOUT THE AUTHOR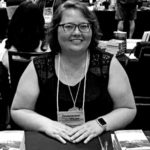 Kristina Knight is a freelance writer with more than 15 years of experience writing on varied topics. Kristina's focus for the past 10 years has been the small business, online marketing, and banking sectors, however, she keeps things interesting by writing about her experiences as an adoptive mom, parenting, and education issues. Kristina's work has appeared with BizReport.com, NBC News, Soaps.com, DisasterNewsNetwork, and many more publications.