Studies: Consumers engaging but want more interaction
First, the Unicast report.
• Branded canvas formats have the highest interaction rates
• Unicast's own messenger units have the second highest interaction rates
• On average, interaction rates reached 77 seconds for retailers using branded canvas or messenger formats
• Restaurants using branded canvas or messenger units averaged a 52 second interaction time
In a related survey, Hipcricket finds that mobile consumers want even more interaction from brands. Their consumer-based survey found that, while consumers are using mobile devices more often for video, news/information and shopping, they aren't getting enough interaction from their favored brands via the mobile space.
Now for the Hipcricket survey.
• Mobile web usage has increased 70% since 2009
• 53% of respondents have visited an mobile retail site
• 28% will use mobiles at least some 2010 holiday purchases
"[Consumers] are eager to interact with brands on their mobile devices," said Eric Harber, President and COO, Hipcricket. "We continue to see the advancement of mobile CRM strategies and mobile loyalty clubs such as the one we have created with Arby's that provides customers with relevant offers and information that meets their needs and interests."
Hipcricket's survey found that 57% of consumers are interested in mobile loyalty programs, but that 80% of consumers have yet to be marketed to via a mobile device by their preferred brand.
ABOUT THE AUTHOR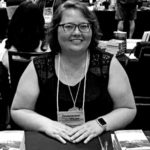 Kristina Knight is a freelance writer based in Ohio, United States. She began her career in radio and television broadcasting, focusing her energies on health and business reporting. After six years in the industry, Kristina branched out on her own. Since 2001, her articles have appeared in Family Delegate, Credit Union Business, FaithandValues.com and with Threshold Media.