Radio One taps AdGent's Tweetology
Radio One is the United States' largest radio broadcasting company serving primarily African-American/Urban listeners. AdGent Digital rebranded from AdGent 007 earlier this fall; throughout 2010 the platform has released ads which incorporate social media, giving advertisers more bang for their buck in many cases because social is capturing more attention from consumers.
The Tweetology widgets grab tweets in real time based on specific keywords or contributors set out by the user, in this case Radio One local stations. Tweets are filtered so that only the content approved or asked for by a publisher is displayed within the widget. Tweetology also allows for advertising on the widget; widgets can be wrapped so that the unit is branded by either an advertiser or by the publisher itself.
"Twitter is one of the most popular and engaging real-time communication tools on the web. With our simple to use interface, Radio One local stations can harness the power of Twitter to create highly focused, engaging Twitter streams about any subject in the Twitterverse," said Cameron Yuill, CEO and Founder of AdGent Digital. "With the Tweetology widget, Radio One can increase the time people stay on their sites as users can tweet directly from the widget without being ported over to Twitter."
This is the second Twitter-type application launched by AdGent this year. In October the firm launched The Skinny, a widget allowing websites/publishers to add a Twitter feed to their website without needing an HTML coder do the work. And, in August, the company launched AVAN, a video advertising network which connects advertisers and consumers through full-screen video players using pre-stitial ads.
ABOUT THE AUTHOR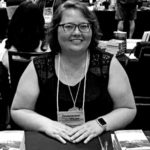 Kristina Knight is a freelance writer based in Ohio, United States. She began her career in radio and television broadcasting, focusing her energies on health and business reporting. After six years in the industry, Kristina branched out on her own. Since 2001, her articles have appeared in Family Delegate, Credit Union Business, FaithandValues.com and with Threshold Media.