How online training can benefit your brand
Mindflash is one online hub which makes it simple to create online training sessions for employees without the logistical problems that travel, conferences and times zones can create.
"The web facilitates more immediate, inclusive communication whether its for a simultaneous global web conference on this quarter's sales numbers or to allow you to broadcast a picture of your newborn baby via Facebook," said Donna Wells, Mindflash CEO. "I like to think that we are doing at Mindflash what we did for personal finance at Mint.com (Wells was CMO with Mint.com): taking a common problem and creating an easy to use web application that solves it."
The initial benefits: less time/money spent on travel, instant access and a broader audience base are just the beginnings. Wells says that online training sessions are simpler to track, simpler to keep consistent and simpler to make interactive so that viewers are entertained as well as trained.
"For small businesses, all of these benefits are enhanced because they are working with limited staff and budgets," said Wells. "Moving the training process online and automating it can make regular, high quality training possible for the first time."
Wells adds that both in-house and global employees can benefit from online training materials.
"Online training is just as beneficial for people working together under one roof as it is for training colleagues on a different continent. The basic benefits of automating the process, standardizing the experience and ensuring the trainees have adequately absorbed the information remain just as valuable, especially for small businesses where folks are strapped for time every day," said Wells. "For instance, every time a new employee starts and needs to learn how to use the phone system – you don't want to have to go through that each time. There are hundreds of use cases like this."
ABOUT THE AUTHOR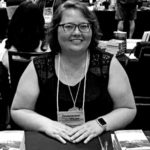 Kristina Knight is a freelance writer with more than 15 years of experience writing on varied topics. Kristina's focus for the past 10 years has been the small business, online marketing, and banking sectors, however, she keeps things interesting by writing about her experiences as an adoptive mom, parenting, and education issues. Kristina's work has appeared with BizReport.com, NBC News, Soaps.com, DisasterNewsNetwork, and many more publications.