Report: More businesses choose remote workers
The Elance Online Employment Report indicates that the biggest job categories for remote work are IT, Creative Services and Marketing. Job postings in Q3 2010 saw an 11% increase even though on-site jobs were still hard to find.
Why are more businesses hiring people to work outside their building? And what does that mean for content providers and advertisers? Elance's Ellen Pack offers insight into the trend and what it means for publishers, advertisers and businesses looking in to the off-site job market.
"The new world of work today is online instead of onsite," said Ellen Pack, Vice President of Marketing with Elance. "Online workplaces like Elance solve geographic and skill mismatches inherent in traditional employment. The Elance Employer Survey, conducted earlier this year, revealed that the shift to online hiring is seen as enhancing competitiveness and profitability by 87% of small businesses."
It helps that email, instant messengers, video conferencing and other online options mean employers can still connect 'in person' with employees who are states or even countries away. Elance's surveys have found that these freelance/off-site professionals are happier in their work.
"The research we have done shows that 79% of people working on Elance indicate control over their own schedule is what they like best about freelancing…people in the US are working a much broader schedule than the typical 9 to 5," said Pack.
They challenge may be for marketers and publishers to change the way they think of the American workday because with so many adults choosing to work from home and during different daytime or nighttime hours daypart ad buys or traditional content may not be the way to engage.
Pack suggests sticking with tried-and-true SEO methods and targeting according to geographic and demographic data to engage these workers.
"The best way to reach and engage remote workers is through relevant content links (SEO), keywords (SEM) and leveraging relevant placement opportunities using [advertising networks]," said Pack. "Content and advertising that helps online professionals be more successful in their careers [are] a good bet. For example, targeting sites that provide ways for freelancers to find new jobs, network and hone their professional skills would all be attractive marketing vehicles."
ABOUT THE AUTHOR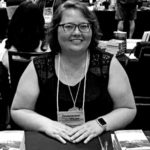 Kristina Knight is a freelance writer with more than 15 years of experience writing on varied topics. Kristina's focus for the past 10 years has been the small business, online marketing, and banking sectors, however, she keeps things interesting by writing about her experiences as an adoptive mom, parenting, and education issues. Kristina's work has appeared with BizReport.com, NBC News, Soaps.com, DisasterNewsNetwork, and many more publications.