Advertisers encouraged to use ad targeting opt-out icon
Advertisers that collect Internet user information for behavioral targeting of ads are being encouraged to implement an "Advertising Option Icon" on websites, or near ads, where behavioral tracking has been used.
The small icon directs Internet users to information on why the ad has been presented to them and gives the opportunity to opt out of future targeted ads. This does not mean, however, that untargeted ads will not be shown to that user in future.
Advertisers can find out more information by visiting AboutAds.info. Meanwhile, plans are afoot for the same website to become a hub where consumers can go to opt out of participating companies' targeted online ads in one fell swoop.
While some advertisers may be frustrated at the move, depending on targeted advertising to hone their response and conversion rates, many believe that the move is needed to allay privacy fears.
"Our ability to deliver advertising messages to consumers that speak only to their interests must surely be one of the great benefits of the media revolution that we're living through," said Nancy Hill, President and CEO of the American Association of Advertising Agencies.
"We fully understand that this advance in targeting will be lost if the public comes to believe that we are not responsible stewards of the data on which it is built."
ABOUT THE AUTHOR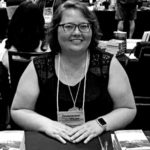 Kristina Knight is a freelance writer based in Ohio, United States. She began her career in radio and television broadcasting, focusing her energies on health and business reporting. After six years in the industry, Kristina branched out on her own. Since 2001, her articles have appeared in Family Delegate, Credit Union Business, FaithandValues.com and with Threshold Media.