Report: SMBs utilizing more media
The 'Local Commerce Monitor (LCM): SMB Plus Spenders' survey was conducted with research partner ConStat.
For the report, BIA/Kelsey surveyed small businesses who spend at least $25,000 per year with media advertising and promotion. The core Local Commerce Monitor small businesses spend between $2,000 and $3,000 (annually) and utilize 3 different media.
"SMB Plus Spenders are more performance oriented in making their media purchase decisions and do a considerable amount of lead tracking," said Steve Marshall, Research Director for BIA/Kelsey. "This group of SMBs, with its digital media savvy and use of more media categories, represents the sweet spot for many companies developing and delivering local advertising solutions."
Researchers found:
• 90% of SMB Plus Spenders have websites
• SMB Plus Spenders push just over 25% of ad budgets into online spaces
• 16% of ad budgets are spent on broadcast media
• 40% look for demonstrable ROI when making campaign decisions
Comparatively speaking, the core members of the LCM businesses spend about 21% of their ad budgets online, spend 1% of their budget with broadcast media and only about 62% have websites.
Although the broadcast spending is not large, that is one area where online may begin impacting small businesses through local advertising. Google TV Ads have announced a partnership to sell video inventory across 11 national networks through DirecTV's satellite television service. Meanwhile, Gannett has announced that their local newspapers and television stations will be selling Yahoo ad inventory; although Gannett Local will not be involved, the partnership could open new areas to smaller, local businesses.
ABOUT THE AUTHOR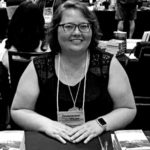 Kristina Knight is a freelance writer with more than 15 years of experience writing on varied topics. Kristina's focus for the past 10 years has been the small business, online marketing, and banking sectors, however, she keeps things interesting by writing about her experiences as an adoptive mom, parenting, and education issues. Kristina's work has appeared with BizReport.com, NBC News, Soaps.com, DisasterNewsNetwork, and many more publications.