Friends, family and health issues lure elderly to Facebook
While users of all age groups flood to Facebook and other social networking and media destinations, the demographic growing the fastest is those age 50 and over.
While the percentage of social networking users age 18 to 29 rose from 76% to 86% in the year to May, 2010, the number of users age 50 and over almost doubled – rising a whopping 88% from 22% to 42%.
This was even higher for older seniors. Usage among those over the age of 65 grew 100% from 13% in April 2009 to 26% in May 2010.
"Young adults continue to be the heaviest users of social media, but their growth pales in comparison with recent gains made by older users," said the report's author, Mary Madden, Senior Research Specialist for the Pew Research Center's Internet & American Life Project.
What attracts older generations to social networking? According to the survey of over 2,250 U.S. adults many log on to keep in touch with family and friends while others look for people from their past or seek support for a chronic illness.
The survey also found older adults taking to other status update media such as Twitter. While just 5% of Internet users ages 50 to 64 had used Twitter or another status update service in 2009, 11% now say they use these tools.
Recent research from online gaming site Roiworld claims to illustrate clear signs of "Facebook Fatigue" among younger users. In particular, many were leaving the social networking site because their parents had joined (16%) or they thought there were too many older people using the site (14%).
ABOUT THE AUTHOR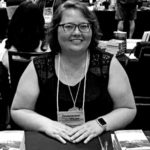 Kristina Knight is a freelance writer based in Ohio, United States. She began her career in radio and television broadcasting, focusing her energies on health and business reporting. After six years in the industry, Kristina branched out on her own. Since 2001, her articles have appeared in Family Delegate, Credit Union Business, FaithandValues.com and with Threshold Media.