Ben & Jerry's drop email in favor of social media marketing
According to reports on both mad.co.uk and newmediaage.co.uk, the iconic Vermont-based premium ice cream maker is dropping its regular email newsletter in Britain after customers aired their preference to be contacted via social media channels.
The last email newsletter went out last week and customers are now encouraged to interact with the brand via Twitter and Facebook. The decision appears to fly in the face of recent research that suggests social media and email have a symbiotic relationship.
But Twitter and Facebook aren't the only weapons Ben & Jerry's have in their social arsenal. What started out as a hippy brand is now dishing out dollops of digital interactivity and fun via its website and mobile offerings.
Their latest move is "Moo Vision", featured on the brand's iPhone app "Scoop of Happiness". The augmented reality feature lets consumers use their iPhone camera to interact with the product packaging for a range of Ben & Jerry's ice cream flavors.
For example, by pointing the iPhone camera at the packaging for the New York Super Fudge Chunk flavor consumers are taken on a virtual tour of New York. Participants can share their adventures via Facebook and Twitter.
ABOUT THE AUTHOR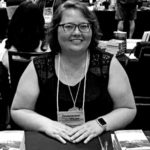 Kristina Knight is a freelance writer based in Ohio, United States. She began her career in radio and television broadcasting, focusing her energies on health and business reporting. After six years in the industry, Kristina branched out on her own. Since 2001, her articles have appeared in Family Delegate, Credit Union Business, FaithandValues.com and with Threshold Media.