Survey reveals which Facebook ads users prefer
Ads on Facebook that don't take the user away from the social networking environment are preferred over ads that, when clicked, take the user to another site. Such are the findings of Inside Facebook Gold's* recent survey of active Facebook users.
When asked which ads they liked the least, 62.7% said "for other websites" followed by "ads for other Facebook pages" (23%) and "ads for events" (14.3%). Marketers should therefore consider a Facebook presence in their social marketing strategy to ensure consumers' can engage without their social networking activity being interrupted.
Another question in the survey determined which advertised products were disliked the most. It turns out that dating and educational/job-related ads were liked the least with 46% and 24% respectively. However, leisure and entertainment-based products such as movies and TV shows (8.7%) and foods and beverages (7.1%) were least likely to offend.
Understanding how Facebook users perceive ads, and which formats are most welcomed, will lead to better conversion and lead generation performance from campaigns carried out on the social network.
Inside Facebook Gold's survey results also reveals which ads users like the best, what type of ads they click on most and what improvements would make them like ads more.
* Inside Facebook Gold is a data and analysis membership service from Inside Network that provides global traffic data and usage statistics to track growth in the Facebook ecosystem.
ABOUT THE AUTHOR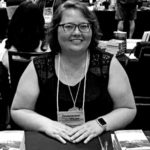 Kristina Knight is a freelance writer with more than 15 years of experience writing on varied topics. Kristina's focus for the past 10 years has been the small business, online marketing, and banking sectors, however, she keeps things interesting by writing about her experiences as an adoptive mom, parenting, and education issues. Kristina's work has appeared with BizReport.com, NBC News, Soaps.com, DisasterNewsNetwork, and many more publications.