Report: B2B firms embrace social media
In its report, "B2B Goes Social", White Horse reveals that B2B firms are indeed using social media. The report compared B2B social media marketing use to B2C in the areas of staffing, support, utilization, and measurement.
The research found that 86% of B2B firms are using social media, compared to 82% of B2C outfits. However, B2B firms aren't as active in their social media activity with only 32% engaging on a daily basis compared with 52% of B2C firms.
One particular obstacle that B2B firms have to overcome is an in-house "perceived irrelevance" surrounding social media. While this thinking is prevalent in nearly half of B2B firms, the same can be said of only 12% of B2C firms.
Other findings from the report (.pdf) include:
– 36% of B2B execs have "low interest in social media" compared with just 12% for B2C
– 60% of B2B firms have no staff dedicated to social media compared with 54% of B2C players
-Just 10% of B2B firms use outside agencies or consultants compared with 28% of B2C firms.
"Our survey revealed a B2B landscape in which social media plays a significant and ever-growing role in the marketing arsenal, but one which is in no danger of supplanting traditional tactics," concludes White Horse.
"In order to establish leadership in social media marketing, B2B marketers must overcome the inertia of internal politics by continually proving the relevance of social media conversations to their business' reliance on solid customer relationships."
ABOUT THE AUTHOR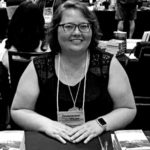 Kristina Knight is a freelance writer based in Ohio, United States. She began her career in radio and television broadcasting, focusing her energies on health and business reporting. After six years in the industry, Kristina branched out on her own. Since 2001, her articles have appeared in Family Delegate, Credit Union Business, FaithandValues.com and with Threshold Media.