Marketing agencies need to sharpen their pitches
It seems that while marketing agencies think they ought to be impressing clients with a sales pitch that's all about them, they should instead be focusing on demonstrating how much they know about their prospective client.
RSW/US's research in to the perspectives of clients and agencies on that crucial first meeting leaves the preparedness of agencies wanting. They tend not to focus on demonstrating their knowledge of the marketer's business, instead preferring to discuss creative and their pre-formed opinions.
"Agencies have to remember that while winning the marketer's business might be on top of their priority list, their agency isn't on top of the marketer's list," said Mark Sneider, Owner/President of RSW/US.
On the RSW/US blog, Sneider provides some great tips on how agencies can prepare for a successful first meeting. These include contacting the client in advance to pose some questions about their business in order to prepare all involved for what may be discussed (and to show that research is being done), and not parting company without a "next step" planned out.
"And finally," concludes Sneider, "…for goodness sake, if there is a follow-up, do it quickly…don't let weeks pass or they're sure to lose. We've seen agency clients wait weeks…sometimes months. The death of an opportunity! I don't care if the prospect said "no hurry"…you need to be in a hurry!" http://www.agencynewbusiness.com/2010/05/first-meeting-advice.html
ABOUT THE AUTHOR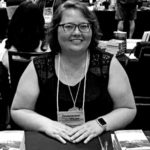 Kristina Knight is a freelance writer with more than 15 years of experience writing on varied topics. Kristina's focus for the past 10 years has been the small business, online marketing, and banking sectors, however, she keeps things interesting by writing about her experiences as an adoptive mom, parenting, and education issues. Kristina's work has appeared with BizReport.com, NBC News, Soaps.com, DisasterNewsNetwork, and many more publications.