Want to stand out? Partner with a nonprofit for a cause
The 2010 Cone Nonprofit Marketing Trend Tracker found nearly 60% of American consumers are more likely to show interest in products associated with a nonprofit partnership than those standing alone.
Other interesting findings include:
• Half of consumers are more likely to donate after learning about a partnership
• 49% are more likely to join an event for the nonprofit and 40% are more likely to volunteer with the nonprofit
• 75% want to hear about/read about partnership results
• 61% "actively seek" partnership details to share
Alison DaSilva, Cone's executive vice president of Cause Branding said, "While we have seen many companies reap the benefits of cause-related partnerships, these results reveal the same benefits hold true for the nonprofit brand. Strategic corporate partnerships can help nonprofits stand out and create new, loyal ambassadors."
And it isn't just online brands which can benefit. Consumers want to hear about for-cause partnerships from all directions and outlets. Although marketers may find a quicker buzz from the social realm, the report shows that 80% of consumers respond after learning about a cause opportunity through traditional media, 74% through advertising and 69% are likely to respond at events. Email, social media and mobile were also hot properties for sharing cause marketing initiatives.
The survey took place February 11 and 12 and was conducted by Opinion Research Corporation.
ABOUT THE AUTHOR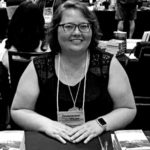 Kristina Knight is a freelance writer based in Ohio, United States. She began her career in radio and television broadcasting, focusing her energies on health and business reporting. After six years in the industry, Kristina branched out on her own. Since 2001, her articles have appeared in Family Delegate, Credit Union Business, FaithandValues.com and with Threshold Media.