Study finds very few press releases contain multi-media elements
Just 13% of press releases can truly be considered to be multi-media, found RealWire, who defined a true multi-media release as one that contains content other than a company logo.
"In an online digital world where content can be created in multiple mediums and then shared in social media communities, it is surprising, and a little disappointing, to see such a small proportion of PR stories taking advantage of these opportunities," said Giles Shorthouse, RealWire Business Development Executive.
Of the 2,847 press releases analyzed, 81% that were deemed to include multi-media were limited to a photo or a graphic, 71% simply offered a company logo.
Very few included multi-media elements such as social media (2%) or audio/video (2%).
According to Adam Parker, RealWire's Chief Executive, a true multi-media press release is in a format that "takes advantage of the breadth of digital tools to tell your story not just the written word – audio, video, images etc; that is designed to facilitate conversation by allowing people to share it, link to it, comment on it and track resulting reactions; that helps to direct people to other places where relevant information to the topic can be found through links; and is written and designed in such as way as to be accessible by everyone from a journalist to an end reader".
So why don't more press releases contain multi-media elements? Parker believes it is a combination of lack of access to the skills needed to create the content, a lack of collaboration between different marketing disciplines and the costs that some press release distributors charge to send out the additional content.
As well as great press releases, individual firms need to ensure their online press page is up-to-date and functional as many journalists and bloggers will look there first for company information, graphics, news and, yes you guessed it, multi-media content.
ABOUT THE AUTHOR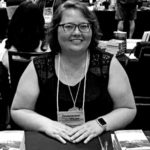 Kristina Knight is a freelance writer with more than 15 years of experience writing on varied topics. Kristina's focus for the past 10 years has been the small business, online marketing, and banking sectors, however, she keeps things interesting by writing about her experiences as an adoptive mom, parenting, and education issues. Kristina's work has appeared with BizReport.com, NBC News, Soaps.com, DisasterNewsNetwork, and many more publications.